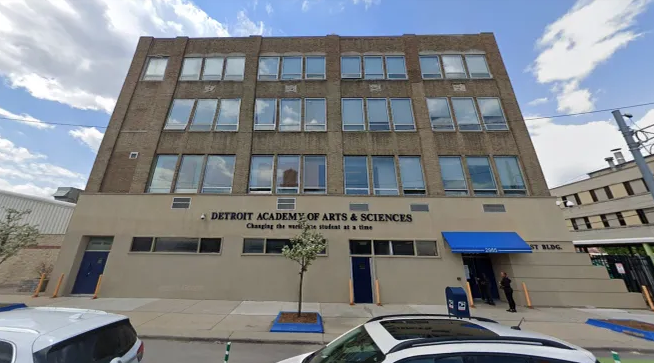 Jennifer Chambers, The Detroit News
Detroit — A $3.5 million pilot program that infuses cash into four non-profit charter schools is paying for teacher retention bonuses, new curriculum and building and technology improvements.
The Detroit Children's Fund, a nonprofit organization in Detroit, launched its School Collaboration Collective program earlier this spring at Escuela Avancemos Academy, Detroit Academy of Arts and Sciences, Hope Academy and Jalen Rose Leadership Academy.
Jack Elsey, executive director of Detroit Children's Fund, said the program was created to address systemic issues in Detroit education at the school building level.
Selected schools were required to show some indicators of success and have a strong belief that all children can succeed, said Elsey who gathered charter school officials Monday in Detroit to provide an update on the program and its investments.
"(The program) is a deep commitment to four nonprofit charter schools in Detroit to give them the time, the resources, the coaching and development and the long-term commitment that they need in order to go from good to great," Elsey said.
The program takes a holistic approach to school improvement by combining national best practices and school level data to improve student performance, fund officials said.
To do that, the fund provides support to each school with 1:1 coaching for teachers and instructional leaders, computers and technology for students, school visits, common core aligned curriculum and intensive leadership training.
"It is a customized approach to each school," Elsey said. "We leave room for schools to say these are pieces missing that we can use additional support on."
The schools are collaborating with one another throughout the process of the program through monthly cohort training sessions, said Erica Robertson, deputy director of the fund.
"We believe our teachers are superheroes. They work against a lot of challenges," Robertson said. "They can't do everything to drive transformational change. We want to bring in the resources to drive that change. We looked at leaders who wanted to do the same work."
Fund officials say they are seeing results on the early stages of the program. Escuela Avancemos Academy was forced to move from its buildings at the end of the 2018-19 school year and administrators feared losing teachers.
Due to the fund's plan to provide increased instructional support and retention bonuses for school staff, Escuela Avancemos was able to retain 100 percent of its staff for the upcoming school year, said Sean Townsin, principal at Escuela Avancemos Academy.
"The partnership with DCF came at a critical moment for our school," Townsin said. "The support our teachers are getting through the program, in both professional development and monetary incentives, helped to make our teachers feel respected and valued, and ultimately want to stay."
While larger school districts like Detroit Public Schools Community District and others might be able to collaborate with each other within their own buildings, charter schools are often districts with only one school.
That means teachers and building leaders feeling isolated, Robertson said. A day of training this summer in Detroit brought 175 educators together in one room where they looked at data together and talked about ideas that work in the classroom.
"A teacher told me 'We feel so isolated and so alone in this work. But to come together with a bunch of other teachers, this is something we have never had,' " Robertson said.
"That isolation is real. …This program is getting teachers outside the city and visit other schools doing really great things," Robertson said.
Elsey said after the pilot is over in 2020, the fund will consider a five-year investment into the program.
"Our goal is to validate a formula that really works," he said. "Our partnerships will be a lifetime. It will change as the needs of the school evolve."
jchambers@detroitnews.com