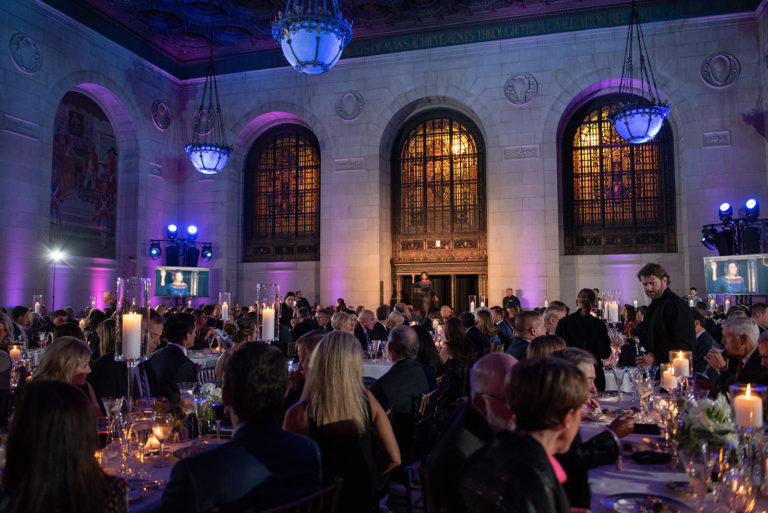 On September 29, Detroit Children's Fund hosted its 2nd Annual Dinner, supporting the improvement of K-12 public education in the city of Detroit. The event, chaired by Kim and Mark Reuss, Executive Vice President and President, Global Product Group and Cadillac, General Motors Company, raised a record $2.17 million through generous sponsorships and donations. Included in this total was a $1 million match from DCF board member Adam Levinson and his wife, Brittany.
The Annual Dinner was held at the Detroit Public Library and had a sold out crowd of nearly 300 supporters. Guests enjoyed a strolling cocktail reception in the center of the library before heading upstairs to the library's historic Strohm Hall for a formal dinner, program and live auction.
The program was emceed by Morning News Anchor WDIV Local 4 News Detroit, Rhonda Walker, and included several notable speakers – DCF executive director, Jack Elsey; President and COO of Crain Communications, and Chairman of Detroit Children's Fund board of directors, KC Crain; DCF Board Member and President and CEO of The Skillman Foundation, Tonya Allen; and event chair and GM executive, Mark Reuss.
A live auction closed out the program and included five VIP experience packages for events like the Indy 500, ESPYS Awards Show, and the Rocket Mortgage classic. Combined, the auction items raised $121,000 for Detroit Children's Fund, which contributed to the overall event total.
Following the program, guests made their way to the after party in the library's arts & literature room, where they enjoyed live entertainment by DJ John Arnold with percussionist Dan Austin; LED dancers from The Dancing Fire; custom cocktails and late night snacks.
Major event supporters included: Host Sponsor, General Motors; Presenting Sponsor, Tom and Holly Gores with Platinum Equity; Hometown Match Sponsor, Brittany and Adam Levinson; Executive Sponsors, Barton Malow, Crain Communications Inc, Ilitch companies, Kojaian, Lear Corporatation, Edward C. & Linda Dresner Levy Foundation, and Magna; Platinum Sponsors, AVL Americas, Mary Kay & Keith Crain, Gretchen & Ethan Davidson, DTE Energy Foundation, Marlene & Bill Emerson, Fata Automation, FleishmanHillard, Gallagher Kaiser, Ghafari, Kenwal Steel Corp. and the Eisenberg Family, Quicken Loans Community Fund, The Suburban Collection; and Media Sponsor, Crain's Detroit Business.
For more information about the Annual Dinner, a full list of sponsors, and for the latest updates about the 2019 event, please visit detroitchildrensfund.org/events/.